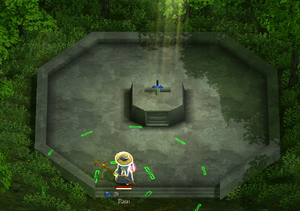 This weapon is a refrence to the Master Sword from The Legend of Zelda series. It is found in a secret area in chapter two by freazing the river and heading north on it right after the first troll in Chapter 2. The clearing is most reminiscent of the grotto in The Lost Woods in The Legend of Zelda: A Link to the Past on the SNES.
Known by some as "The Bane of Evil" -- An ancient sword that contains arcane power. Known by Hylians as "the Sword of Evil's Bane."
Damage type: Medium Physical
Special: Shoots arcane when wielder is at full health
Ad blocker interference detected!
Wikia is a free-to-use site that makes money from advertising. We have a modified experience for viewers using ad blockers

Wikia is not accessible if you've made further modifications. Remove the custom ad blocker rule(s) and the page will load as expected.