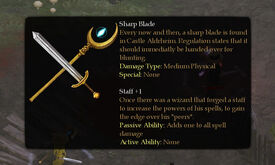 The Staff +1 is a wield able Staff. Like Sharp Blade, it was originally only available to those who bought the game before January 31st 2010. You must select the "Robe and Hat" option in the robe customization window to actually use this staff.
Passive Ability: Adds one to all spell damage
Active ability: None
Ad blocker interference detected!
Wikia is a free-to-use site that makes money from advertising. We have a modified experience for viewers using ad blockers

Wikia is not accessible if you've made further modifications. Remove the custom ad blocker rule(s) and the page will load as expected.