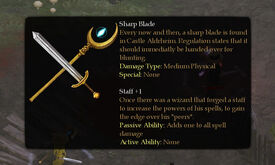 The Sharp Blade is a wieldable weapon, and persumably slightly more powerful than the normal Blunt Blade. It is only available to those who purchased Magicka before January 31st, as part of the Wizard's Survival Kit Bonus Downloadable Content pack.
Damage type: Medium Physical
Special: None
Ad blocker interference detected!
Wikia is a free-to-use site that makes money from advertising. We have a modified experience for viewers using ad blockers

Wikia is not accessible if you've made further modifications. Remove the custom ad blocker rule(s) and the page will load as expected.